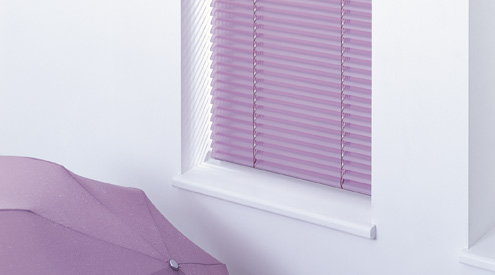 A practical option as such, the user friendly Amity Venetian allows the filtering or elimination of light through its adjustable light-distribution system, and because we offer a variety of slat sizes your blind will be perfectly proportioned for smooth operation and a stylish streamlined look.
A staple of contemporary schemes the aluminium venetian is compact and versatile, presenting a wealth of design possibilities with the hundreds of colours and effects available, like the soft sheen, matt, gloss, metallic, mock-wood, patterned and perforated effects in the extensive Amity ranges.
Or to bring a touch of nature to your home opt for our high quality bass-wood venetians, available in a variety of natural tones and painted effects and with the option of coloured or patterned tapes to coordinate to your unique design desires. Plus you can achieve this high-quality style with a clear conscience knowing that our environmentally minded suppliers only utilise wood from constantly replenishable sources.

Luxaflex Wood Venetian Slat Colours (please click on the image below)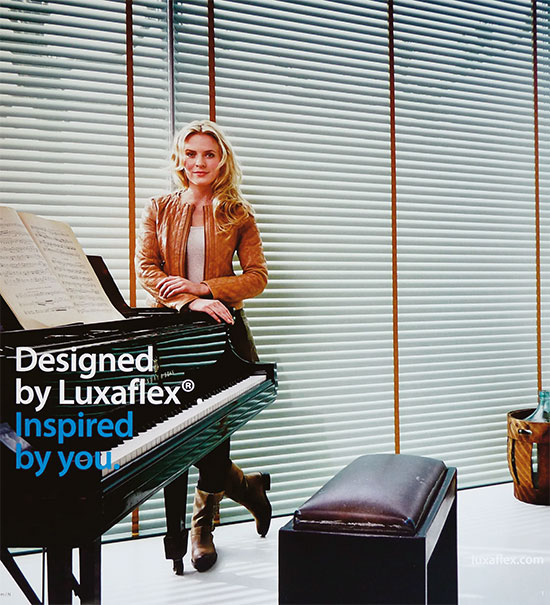 Product variations
16 mm
Sophisticated and unobtrusive. A combination of optimal see-through with superb light control.
25 mm
For an excellent balance of visual style and outstanding durability. Featuring the widest range of colour choices, finishes and textures, including numerous sophisticated perforation options.
35 mm
Functional, reliable, and timeless. Ideal for medium to large-sized windows. Effortlessly control and direct the light in your room with the simple twist of a wand.
50 mm
A striking design classic. A newly re-engineered look featuring gracefully rounded slat corners with options for custom perforations at the slat ends or near the pull cords for an enhanced sense of retro style.
70 mm
To extend our offering for every size of window, particularly for larger windows in your home or office.
Ondulette® blinds
Add an eye-catching extra design dimension to your windows and room. Sculpted slat edges provide a unique visual design when closed and a stunning play of the light when opened. Ondulette® shapes range in style from soothing waves to strong, geometrical patterns.
Double the view
This blind offers you that extra view and privacy control that you might be looking for. This blind closes as a normal 25 mm blind, but when you open it, a MegaView® outside view is presented, by doubling the view through to the outside.
Colours & materials
Colours
Venetian Blinds are available in an unrivalled spectrum of contemporary colours and finishes; soft pastels, sophisticated variations of white, stunning metal looks.
Textures
From elegant hammerbeats and brushed aluminium textures to subtle tone-on-tone structures, and refined, multi-colour designs
Personalisation options
Tilt & turn window solution
Frontfix is specifically designed for tilt and turn windows and can be fully integrated into the window frame. Side guides, incorporated within the system, maintain the blind in position when window is angled open.
Stylish headrail
Evolution is a stylish headrail with an operation mechanism in view. This product gives a romantic and classic feeling. Available in 50mm Venetian Blinds.
Aluminium valance
Fusion is an aluminium decorative valance, Design and Stylish!
No light leakage
Luxaflex Lightline® is specifically designed to prevent light leakage from around the vertical cords used to raise and lower the blinds. This ensure that no cord holes are visible, enhancing the overall look and room darkening characteristics of the product.
Flexible light control
Variozone™ is the ultimate in flexible light control. A patented solution allowing you to open or close any segment of your blind to create the optimal combination of light and privacy. Ideal for bathrooms, street-facing windows, or offices in need of a balanced approach to privacy and glare control.
Unique solutions
Special window shapes
Classic looks with optimal see-through make Venetian Blinds a smart choice for difficult shapes.
Humid rooms
For humid rooms and spaces Venetian Blinds provide a superb solution including an aluminium head rail. Please visit your local showroom for further details.
Room darkening
Sometimes, the absence of light is important to the overall design or function of a room. Bedrooms used during the day, or specialised media rooms require the ability to completely eliminate all outside light.
Moving and tilting windows
Venetian Blinds feature an optional, fully integrated Frontfix system - perfect for turn and tilt windows. For other sliding windows or doors, side guiding is also available.