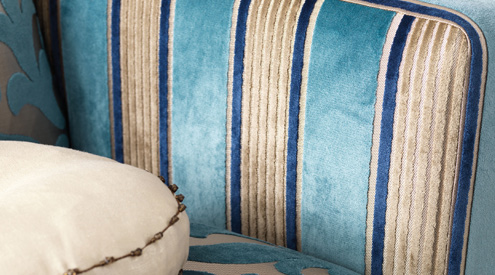 Here at Amity our professional upholsterers are expert both in hand sewing and machine workmanship and are dedicated to our promise of made-to-measure excellence.
This means we can offer upholstery and re-upholstery services for all sorts of ordinary and extraordinary items such as bespoke loose covers, sofas, stools, chairs, headboards, cushions and more, customised to any size, shape and design requirement, and to the highest standards of quality.
We also have a wealth of textile solutions in our extensive range of flame-retardant and hard-wearing fabrics, designed for use as domestic and contract upholstery.
These extend across the design spectrum from contemporary to classic, from plain to decorative, from light to dark, including matching curtain fabrics, coordinating trimmings and accessories, to achieve the look you desire.
Designers Guild Furniture