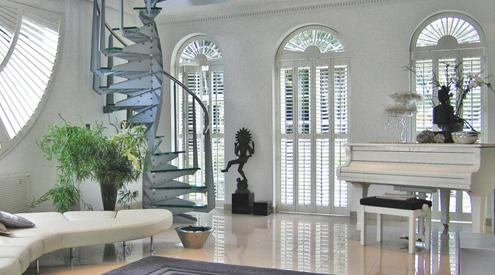 Shutters have long been the window treatment of choice because they offer so much more in terms of privacy, ventilation and light control.
We are committed to following stringent quality control procedures to ensure that our products are continuously made to the highest standards, with excellent value for money guaranteed across our entire purpose made range. Avail of our expert measuring and installation service or if your DIY skills are up to scratch, you may choose to fit yourself.
There are various slat widths to select from and you can choose from our extensive colour palette including, paints, stains or a customised colour matching service to match your room décor.
There is also the option to simply open and close your shutters as you please using a handy remote control.
Plantation shutters were originally designed as an external window covering for hot climates. Now they are used internally because they offer versatility in light, ventilation and privacy simply not possible with curtains or blinds.
Interior shutter with adjustable louvers can be designed in many different styles and come in a large range of louver sizes and colours. Shutters come in many different material and price options, the quality of our lowest price shutter is actually as good as the premium range, it is lower priced because of the material used and finishing required.
Colour Options

Woodstain Colours

White Options

Product variations
Full height style shutters
Full height style shutters cover the entire height of the window producing a simple and elegant effect.
Tier on tier
Tier on tier offers the versatility of separate shutters on top of each other. Each opens individually for the ultimate light and privacy control.
Café style
Café style cover the bottom part of the window, leaving the top uncovered. This continental look is perfect for overlooked windows whilst allowing natural light to flood the room.
The best wooden shutters there are
Cedar Shutters are generally acknowledged as the best wooden shutters there are and our shutters are no exception. Made from Western Red Cedar, Cedar wood Shutters are available in painted, lacquered or oiled finishes. The "oiled" finish option provides the most natural appearance of any shutter available and are the natural choice for barns and warehouse conversions.

Main benefits
Natural Oiled Finish, very matt in appearance
Very light, good for conservatory roof shutters installations
Elegant fine grain shows through paint finish with slight ripple effect
Will last as long as your house will
Great in humid conditions, can even be used outside
FSC Shutters
High quality, robust shutters
Our FSC shutter range is made from very robust and high quality, Forestry Stewardship Certified hardwood, with an engineered core to prevent any possibility of warping. They are well suited to areas where extra durability is required either around the home or for commercial premises. This range can be made to your special requirements with different thickness stiles and rails or even louvers. The architects choice for truly custom shutters.

Main benefits
Beautiful tight grain with smooth finish
Very strong and robust hardwood
Ideal for commercial applications where a wood product is preferred
A natural timber feel
These shutters are made in a very light, grainy timber offering a superb character look stained and paint finished. It's is ideal on very wide openings where tracking is not desired. It is also used for conservatory roof shutters. It is also our most eco timber as its grown to full height in only 8 years and harvested like wheat. It is grown to make shutters thereby locking up carbon better than the Kyoto treaty does.
Main benefits
Very light, idea for conservatory roof shutters
Very real character and rich colours when stained
Good for very large partitions and openings where tracking is not desirable
When paint finished has good texture
Durable and low cost Faux wood shutters
The Faux Wood Shutters are engineered with an LVL core, LDF outer body and polymer coated in a choice of Five white extremely durable finishes. For very low priced plantation shutters Faux wood is the most popular choice, it is mainly purchased for its budget price but premium looks. Maintenance free and very strong, with a wipe clean surface. Impervious to kids with crayons it is also the interior designer's contemporary choice.

Main benefits
Very Durable Shutters
Very low cost Shutters
Hard to tell apart from plantation shutters costing twice as much
Window shutters that never need repainting
High quality but low price
The Basswood Shutters Range is crafted from solid basswood. Basswood is a very competitively priced hardwood and popular material for shutters. All shutter stiles have mortice and tenon joints to prevent warping and ensure prolonged quality and durability. We have kept the price low by offering limited options and colours.

Main benefits
Low priced, high quality
Tough but feels really good when clicking open and shut
Best value wood shutters on the UK market
Bathroom shutters
Our New Bathroom Shutter is NOW available. Constructed from ABS with a Matt finish and reinforced style this range is ideal for harsh environments. Suitable for bathrooms and wet damp areas this tough but elegant shutter range will look at home in any situation.

Main benefits
100% Waterproof
Hardwearing and robust
Colour range of 6 Whites
Technically superb, aesthetically perfect
Another range is the engineered multi material solid painted tough low cost shutter. The stile and rails are made with a strong laminated timber core.
The whole shutter and frame is in a paint finish in a choice of colours from a standard range.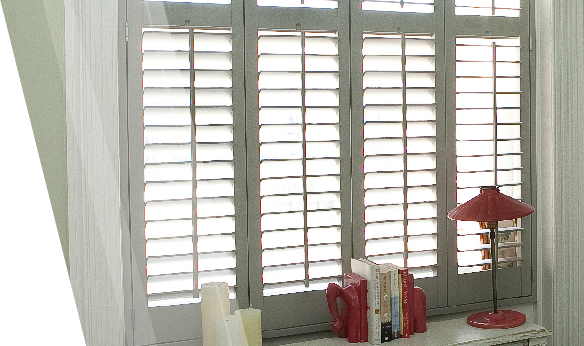 Main benefits
915mm Maximum Single Panel Width
620mm Bi Fold and 3 from hinge Tier on Tier OK
F&B Colours in a low cost shutter
Looks as good as wood but is stronger

Conservatory shutters
Apart from looking great, conservatory shutters offer a degree of flexibility that is simply not possible with most other shading options. unlike fabric-based shading systems, shutters are easy to clean and will not rot, sag or noticeably age.

Shutters may also be used on the sides - for long sections they can be mounted on top tracking to slide away when not in use. Shutters are also used for partitioning and as multi-fold internal doors. Quite often the opening to the conservatory may have shutters suspended on a top track. The solid base and louvre top shutters are used extensively for these applications.
If your enquiry is for a conservatory application, please make this clear when asking for a quotation.
Exterior shutters
Our range of exterior shutters can be coated from a choice of oil based stains or solid colour paint systems, including a custom colour option to match RAL colour charts or your chosen paint scheme.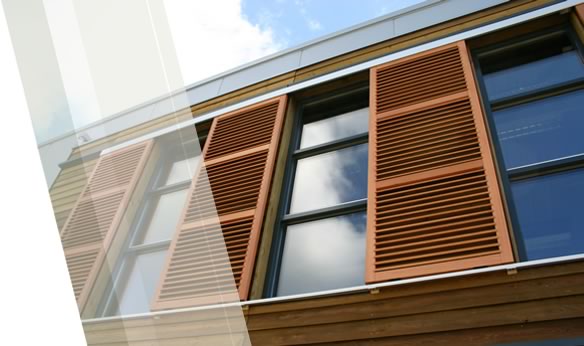 Both Western Red Cedar and Siberian Larch are ideal for exterior shutters due to their density, dimensional stability and resistance to moisture and decay, providing long term performance and low maintenance on all exterior building and joinery applications.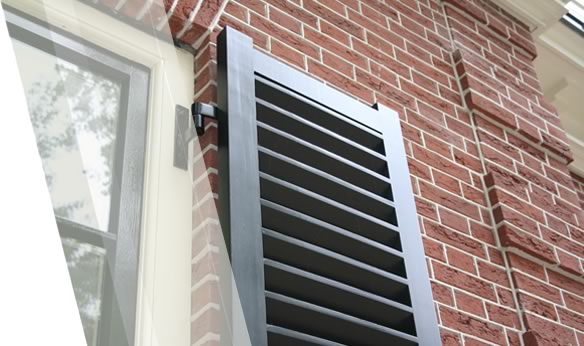 Reinforced engineered uprights and renewed stronger mortise and tenon joints ensure a robust and durable shutter panel system and are manufactured with a full three year warranty on panel structure and colour stability.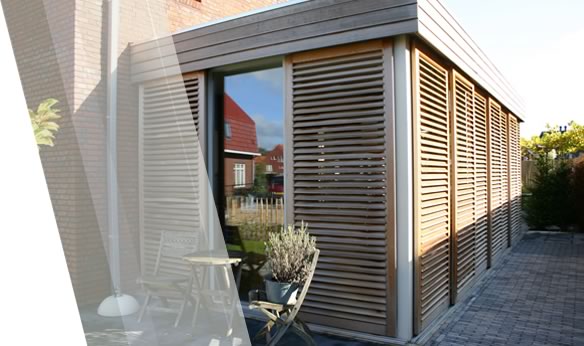 Our exterior shutter range is completely custom made to complement your architectural and design requirements, whether this be traditional or contemporary, and we can manufacture panels to suit special shapes to match your project.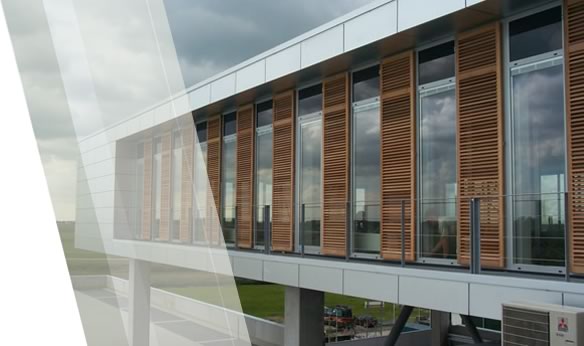 With various options on shutter louvres including closed, semi-open or open you can add aspects of view, light, ventilation and privacy to your designs, and all exterior shutters are fully finished with powder coated stainless steel hardware ready for immediate installation.