Because Amity's outdoor blind ranges are so extensive, including awnings, canopies, parasols and more, all available with varying extras such as convenient operation, timer and sensor functions and anti-fade / anti-mildew fabrics, lighting and heaters. We can tailor to your unique mechanical, practical and design specifications to really maximize the benefits of your outdoor blind.
Patio and Balcony Awnings
Our balcony awnings and outdoor patio blinds will help you create an oasis of calm outdoors.
House awnings create charming spaces that are both shaded and private. Our balcony awnings and house awnings can be designed with fabric, metal, wood or a combination of materials to effectively cater to your needs. Let us help you create an airy living space outdoors with our balcony awnings. Each product in our residential awnings range is durable, versatile and comes in a range of colours. If you are looking for house awnings, you can rest assured to find your ideal awning among our vibrant selection of designs.
Enjoy a customised light and shade solution with our patio awnings.
Achieve the exact balance of light and shade you need with our outdoor patio awnings or balcony awnings. We believe in giving our customers many options to choose from so you can match the patio shades you select to our porch awnings or terrace awnings for a wonderful shading solution.
If you have unique needs, we can offer you a customised awning solution. For instance, if you require special features such as waterproof fabrics, mechanised designs, heating cells and LED lighting in awnings for decks, we can give you innovative products that are tailored to your individual needs.
Our awnings for the home are made with high quality materials and versatile designs that complement and enhance your outdoor space for a long period of time. Whether you are interested in adding a pergola, a retractable deck awning or window covers, weinor represents an investment you will never regret.
Select a market leader in Northern and Central Europe with an extensive product range that suits diverse weather conditions
Accentuate the natural advantages of your space with 174 awning fabric patterns and 200 frame colours
Choose a customised solution for your unique needs that is manufactured with optimised production processes and strict quality controls
Depend on a customer oriented service experience from initial inquiry to after sales support from a company that prides itself on building strong relationships with demanding clients
Let an award-winning company with 50 years of experience in the awning industry give you the privacy and comfort you deserve
The Zenara - Trend-setting design in its perfect form
The avantgarde shape of the weinor Zenara makes it the designer awning among all awnings and shades. On modern houses, this cassette awning engages in harmonious dialogue with the facade, while on older buildings it provides a tantalising contrast. Since even the larger-sized versions measuring up to 6.5 m in width need just two wall connections, the weinor Zenara merges beautifully with the house to form a single whole. With its numerous innovations, the Zenara is also a true avantgardist in engineering terms.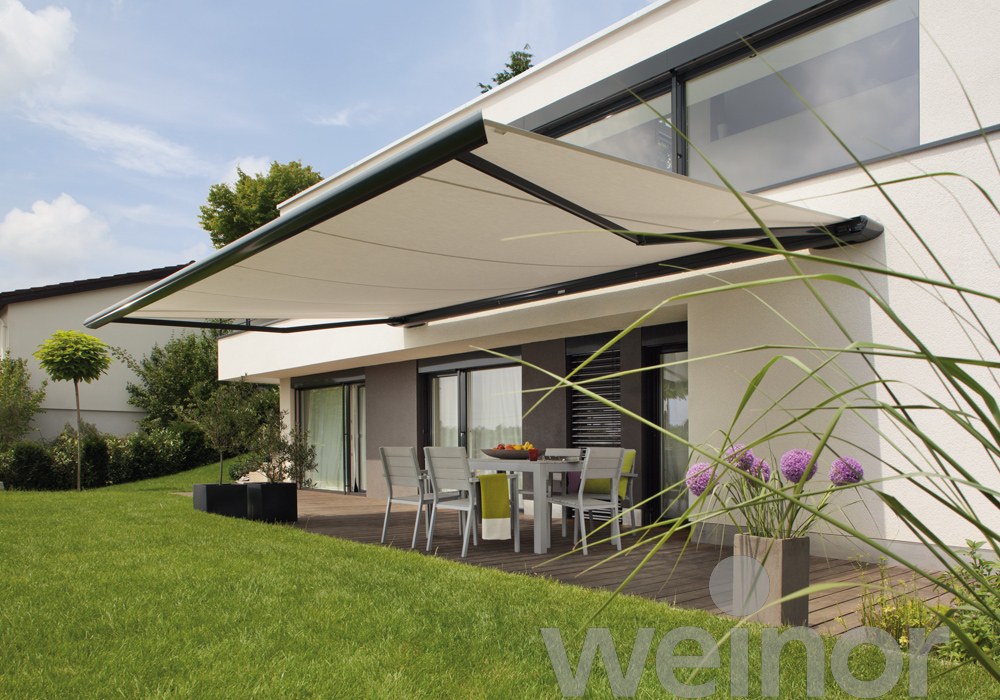 A seamless look
All of the technical components are concealed in the housing to save space. The advantage: no visible brackets, fixings or cover caps.
LED lighting
The pleasant warm white light that comes with the Zenara LED gives you endless hours of joy well into the evening.
LongLife arm
The appeal of the low-noise weinor LongLife arm is its very high tension force – even in gusty conditions. This ensures the fabric is exceptionally well positioned.
The Opal Design II - Impressive features for a top-class awning
The new Opal Design II cassette awning stands out for its timeless, classic design hand in hand with groundbreaking weinor technology. Made to shade large areas, it blends in harmoniously with its surrounding architecture, the attractive shape of the cassette adding a sophisticated element. A wide range of tempting and practical optional extras make it easy to operate and wonderfully convenient while also extending its lifetime.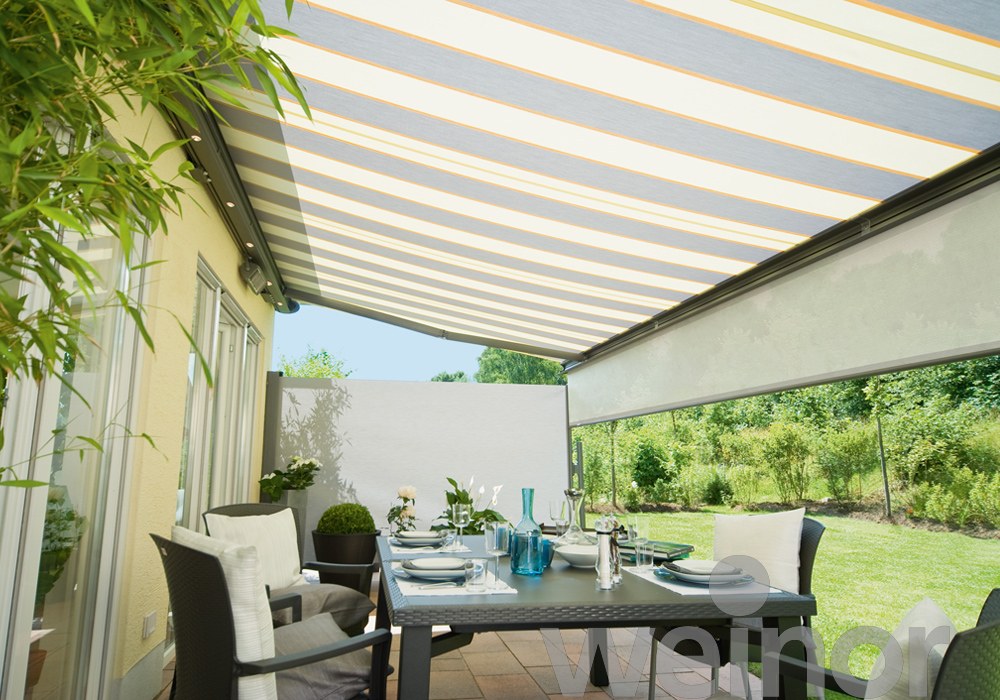 End cap closure – unique and safe
If you can see the spring loaded clips at the end of the front profile are closed, then the awning is reliably protected against the elements and dirt.
Integrated LED lighting
The Opal Design II LED casts an atmospheric, warm white light for even longer hours of enjoy-ment on the patio.
Valance Plus
With it's unique, patented technology, the Opal Design II Valance Plus provides the best possible privacy, as well as outstanding glare and sun protection.
Cassita II - A gem amongst cassette awnings
Elegant design and full of brand new technology. With it's puristic shape and ultra-slim cassette, the Cassita II is the perfect awning for modern domestic trends - with various options for added comfort and convenience.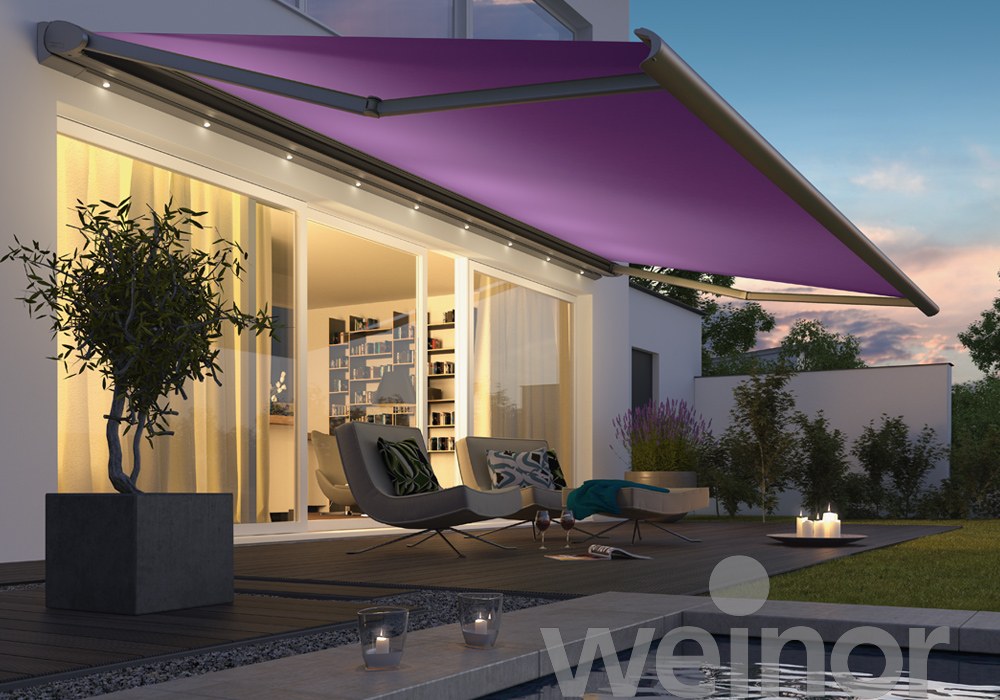 Slim cassette design
For contemporary home decor aficionados: the outstanding feature of the Cassita II is its puristic, harmoniously flat, oval-shaped design.
Optional LED light bar
Even more hours of enjoyment on your patio – the optionally available LED light bar provides a pleasant warm white light in the evenings.
Innovative two-point connection
Easy end-fix installation with only two brackets.
I/K/N2000 - Flexible all-rounders for any application
The I/K 2000 is the tried-and-tested, classic cassette awning – as an I 2000 without back-plate for level building facades, as the K 2000 with back-plate for uneven bases. The sturdy weinor awning with its support pipes can be used almost anywhere. As the decor on the front rail and the end caps suggest, the I/K 2000 tends towards a more traditional design. The N 2000 is an awning designed especially for niche fixing. With it's unique flat front rail the awning disappears almost completely into the facade – with simple straight lines it is designed for a specific need.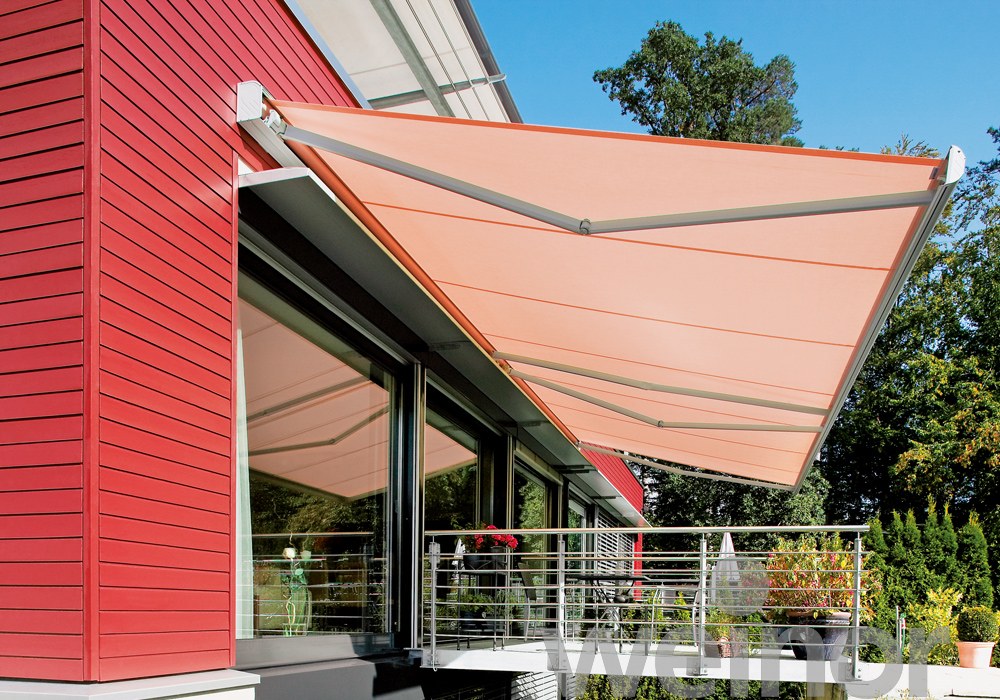 Slim cassette design
Once the awning is retracted, both the fabric and the mechanical parts are safely protected inside the cassette. A number of versions are available depending on where the awning is to be fitted.
N 2000 – the specialist awning for niche installations
The unique flat front fail on the N 2000 makes it the perfect solution when the installation is to be completely hidden.
Multi-section units for large patios
Two-section coupled systems that open and retract by means of a motor are a good option for especially large areas. 
Semina Life / LED - The All Rounder!
Semina Life is the all-rounder among cassette-awnings. It impresses due to its modern, fresh design combined with weinor's technology tried and tested over many years. As it is such superb value for money the Semina Life is a real alternative to the semi-cassette. Its many technical highlights provide superb comfort and a long operating life. Whether young or old, modern or traditional: Semina Life is always just the right choice – in a class of its own!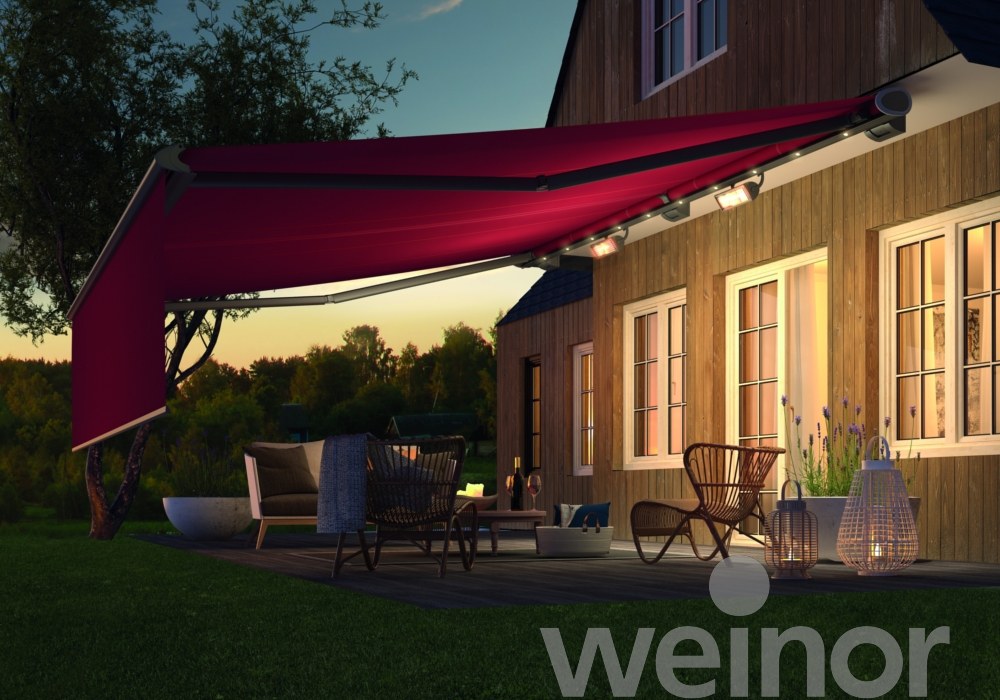 Side design covers
The beautifully shaped stainless steel look headplate rings provide a visual highlight and enhance the customised combination of the frame colour and fabric pattern.
Cassette awning – youthful design with state-of-the-art technology
The Semina Life cassette protects the awning against the weather. The awning closes with practically no wear at all thanks to the cushioned infeed rollers.
LongLife arm
The appeal of the low-noise weinor LongLife arm is its very high tension force – even in gusty conditions. This ensures the fabric is exceptionally well positioned.
Semina - Youthful design meets potent technology
The Semina combines a fresh, youthful design with proven technology and reliable quality. The semi-cassette provides for safety, the safe protection of the fabric and technology and therefore also for an exceptionally long service life. The functions, look and profitability of the Semina have been systematically optimised and coordinated down to the very last detail. For a consistently intelligent solution made by weinor.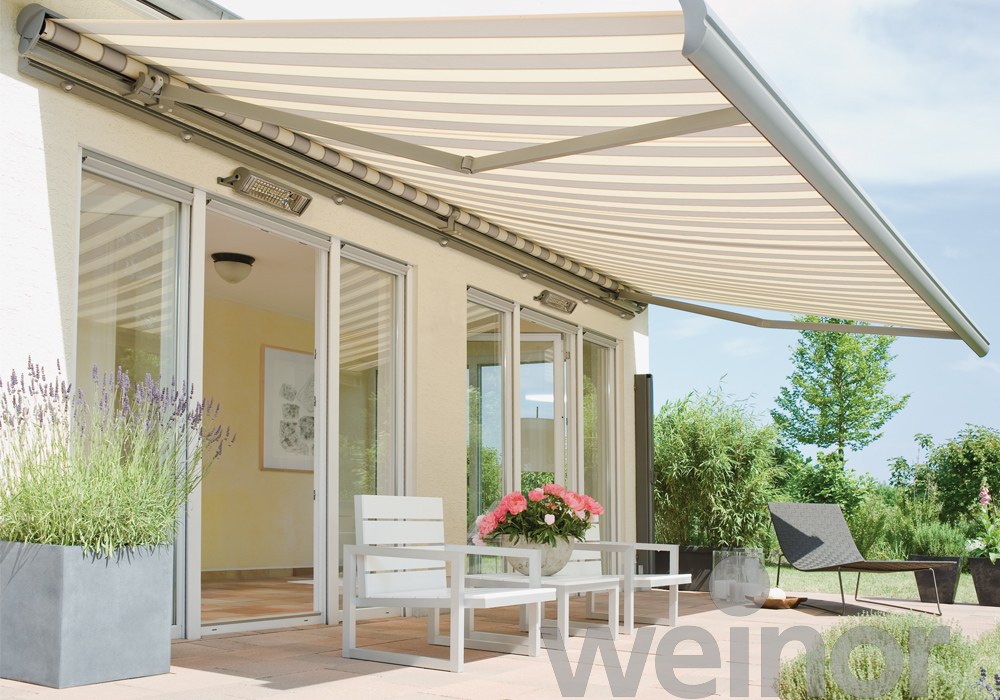 The compact semi-cassette
Here, the semi-circular housing profile together with a large front profi le ensures the fabric and mechanism are protected from the elements and remain free from dirt.
Optional LED light bar
Even more hours of enjoyment on your patio – the optionally available LED light bar provides a pleasant warm white light in the evenings.
LongLife arm
The appeal of the low-noise weinor LongLife arm is its very high tension force – even in gusty conditions. This ensures the fabric is exceptionally well positioned.
Livona - The floating open awning that gets you even closer to the fabric
Smart technology forms the backbone of the minimalist design of the open Livona awning. This puristic awning appears to float in the air, with little obstructing your view of all the fabric. LED lighting can also be added at your request in order to create various ambiences. When combined with the frame colour and fabric, the Livona is much more than an attractive balcony or patio awning: it is a modern style element for life alfresco.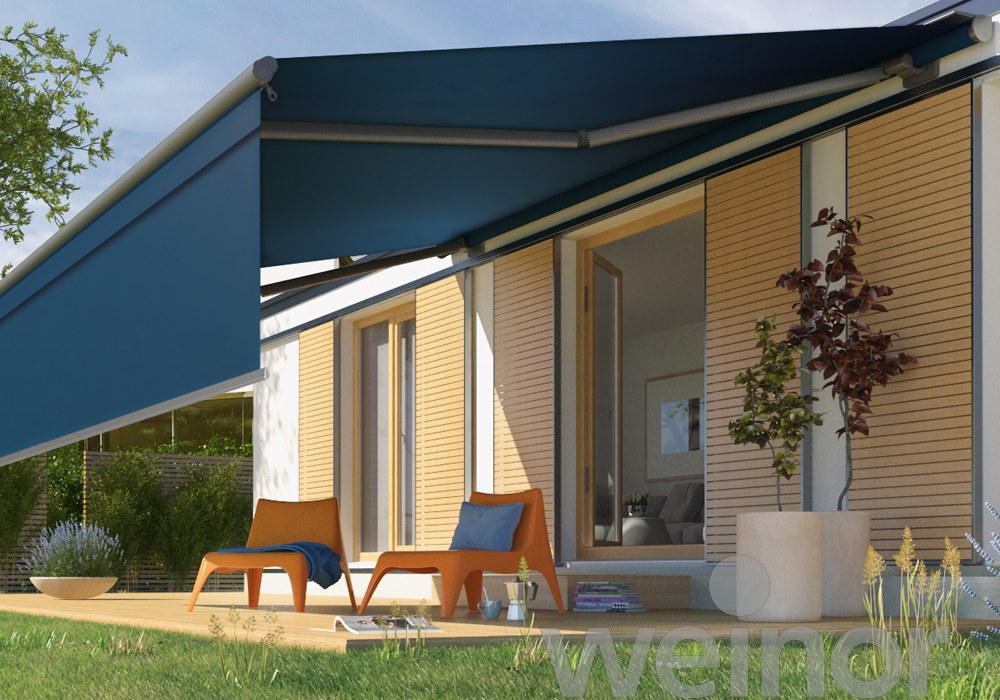 Livona LED
In the weinor Livona LED version, the side light rings and the LED Slim light bar emit fascinating warm white LED light.
Version with roof
Thanks to the wide variety of versions available, this awning can be installed on virtually any house. If the architecture does not provide any shelter from above, the weinor Livona can even be ordered with a roof.
Valance Plus
If you place a lot of value on your privacy and also want shade from the low-lying sun, the weinor Livona/LED Valance Plus is exactly what you are looking for.
Topas - High on quality, low on budget – the perfect model to get you started.
As it comes with several options, you'll always find a matching Topas no matter the type of structure. The Topas open awning is very wind resistant, and when one of the many frame colours is combined with one of the beautiful fabrics it creates a perfect atmosphere.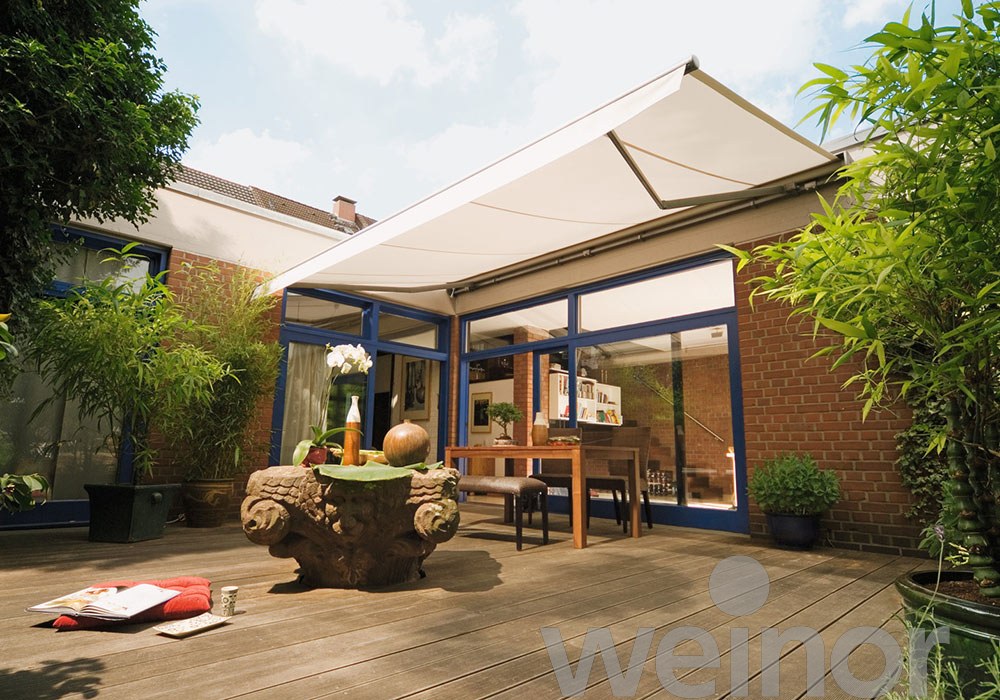 Addition of an aluminium top optional
As an open awning, the Topas is suitable for almost all installations, whether in a niche, below a balcony or underneath a roof overhang.
Version with roof
Additional saftey in the entry level model you will get by choosing a protection roof
LongLife arm
The appeal of the low-noise weinor LongLife arm is its very high tension force – even in gusty conditions. This ensures the fabric is exceptionally well positioned.
Pergola Awnings - cool solutions for hot problems
Pergola awnings make cool solutions for hot problems like sun exposure and excess heat when enjoying the outdoors. With two different pergola designs available, there is a solution for every house and patio. Many different patterns and colours of fabric with 56 colours of hardware and arms make it a simple task to pair the right combination with an existing deck or garden.
There are retractable pergola canopy solutions which offer the opportunity to add Tempura patio heating, LED light, and other accessories. With strong fabrics and carefully calculated profiles, pergolas can be configured for exact situations: from extreme wind and rain showers to uneven surfaces, and scenarios where retracting shade may be required on a regular basis. Pergola designs can be as flexible as you are!
Semi-permanent designs
With optional radio control, and the patented weinor design carriage, pergola awnings and canopy products can provide a near-permanent screen for outdoor areas. Built with the flexibility of quiet and easy operation, the pergola design is strong enough to be left extended when most other awnings fail. Two strong transport profiles combined with a strong gutter and leg system are providing new market standards. Only top quality materials, which have been extensively tested, are used by weinor.
Adjustable shade for the outdoors
Installation of an adjustable type of pergola awning means doing the main installation once and reaping the benefits thereafter with ease.
Garden spaces which need some access to light during specific parts of the day can now be accommodated with the weinor PergoTex II.  At the push of a button, the canopy can be extended or retracted completely or in increments. The use is further extended with addition of lateral all-glass elements or the built in LED spot lights.
Fabrics are PVC coated and the 8° pitch offers strong protection against rain and wind. The cabrio folding system is reminiscent of a sports car with convertible roof. Customers will feel modern and sporty with the weinor PergoTex II. As with every weinor product, pergola awnings are designed for looks, quality, and ease of use in accordance with the weinor philosophy of superior service and products in everything they create.
weinor PergoTex II push-button canopy extension
PVC coated fabrics protect you from the elements
Patented crossbeam technology gives you enhanced stability
Many different colours and patterns to choose from
Plaza Viva – the textile pergola awning
Alfresco living in almost any weather conditions! With the Plaza Viva textile pergola awning you can now use your patio for even longer with even less worries – virtually regardless of the weather. Whether it's as sun shading on a sunny day, as extremely stable weather protection with gusty winds or as clever rain protection from warm summer rain, thanks to the Plaza Viva you can enjoy the haven of well-being on your patio without any interruptions.

Optional telescopic post for easy water drainage
So that rain water can drain off reliably from the Plaza Viva fabric, the optional telescopic post can be lowered using a gear handle to achieve the required pitch.