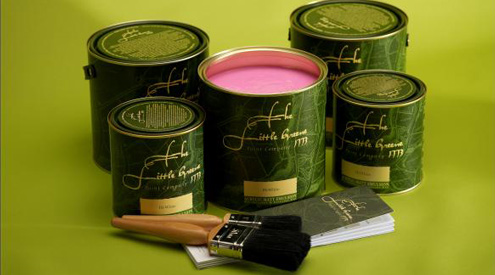 Amity offer a huge range of paint colours from designer ranges such as The Little Greene Paint Company, Designers Guild and Farrow & Ball.
Little Greene paint colours and wallpaper collections will bring fabulous colour and elegance into your home, with a real commitment to the environment. The high quality range of paint finishes have unequalled depth of colour and over 40% more pigment than many ordinary paints. For exterior and interior decorating, our extensive paint palette includes historic colours, extensively researched with English Heritage, and striking contemporary shades. Together they give you the true Colours of England.
Farrow & Ball are the only company continuing to manufacture a full range of traditional and modern paint finishes of the highest quality, in colours which are world renowned for their unrivalled depth. More than 90% of Farrow & Ball's paint range is eco-friendly reflecting a strong commitment to the environment.
Be inspired by the Designers Guild tempting colour palette that ranges from soft and relaxing neutrals to the more vibrant hues and signature colours for which they are so well known. Every one of the 98 shades have been carefully selected to work back with the latest collections, made to the highest quality standard with excellent coverage across all finishes, including matt emulsion, water-based eggshell and floor paint, all suitable for exterior and interior use.