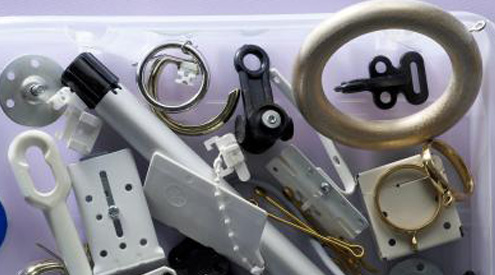 Here at Amity we are committed to providing you with the most suitable and highest quality items to stand the test of time. As part of this commitment we source replacement parts and components for all of our blinds, tracks, poles and more, allowing you to update or replace almost any element of your Amity item you could ever require.
We also extend this selection to include a variety of ranges and products of the past and present, including a massive variety of components for Swish, Harrisson Drape, Silent Gliss and many others, plus accompanying products like hold backs, tie-back hooks, swag creators, curtain draw-rods, blind pull acorns and much more which compliment existing items.
Because our team are so well educated in soft-furnishings and their related items you only need to bring us a sample piece of your product, such as a glider from your track, a bracket from your blind, a weight from your louvre, or any other information you can gather and we are confident that should the item you require exist we at Amity will successfully recommend and provide you with it.